Whatever the nature of your water consumption, we have solutions that will perfectly meet your needs.
Paradoxically, water with a questionable physical appearance may be excellent in health, while water that looks very beautiful can be very damaging. It is therefore of utmost importance that water is analyzed using physicochemical and microbiological parameters. The composition of the groundwater reflects the geological environment in which it flows. Some compounds found in the basement produce aesthetically unpleasant effects (stains on clothing, baths, sinks, toilets, etc.). With the help of an appropriate treatment, it is possible to eliminate bad tastes, smells, stains while destroying harmful bacteria to health.
Pollution is the source of water contamination.
Although efforts are being made to reduce pollution, it continues to affect our drinking water supply. Acid rain, climate change, flooding, freezing and thawing, and excessive fertilizer application all contribute to the contamination of our soils. After the soil, it is the water table that becomes contaminated and by the same token, the water we consume. Correcting a groundwater contamination situation is usually expensive or impossible in some cases. It is for this reason that it is important to prevent their appearance.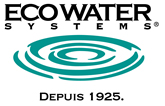 We are proud to offer a turnkey project service, from drilling your new artesian well to selecting and installing your pump and water treatment equipment.
Do you think you have a problem with the quality of your water? Do not wait, ask for a water test today.
Certification in drinking water
R.B.Q. License: 8266-3618-21
Also a proud member of A.P.C.H.Q. and A.E.S.E.Q.